---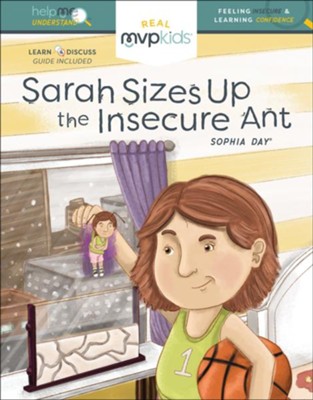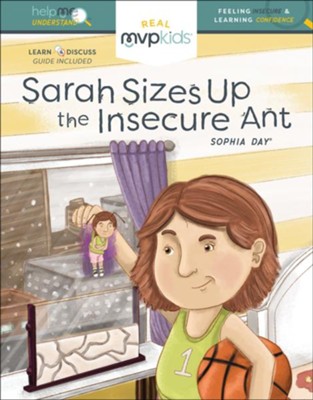 ISBN:

1642047882, 9781642047882

Page count:

62

Published:

2018-10-16

Format:

Hardcover

Publisher:

MVP Kids Media

Language:

Author:

Sophia Day
Anxiety and insecurity leave Sarah feeling like a tiny ant in comparison to others. Sarah feels awkward and thinks she doesn't fit in with other kids her age. A piece of bad advice leaves her feeling even worse, but a change in mindset gives her strategies to overcome her social anxiety, make friends, and become a leader with confidence!
Sarah is an intelligent, quiet school-aged girl. She doesn't quite feel like she fits in with others. She has a peculiar interest in her ant colony, and she feels too nervous to raise her hand or call attention to herself in class. She is anxious about attending a basketball clinic, sure she will embarrass herself in front of the other players. When she walks in on the first day, she exhibits sure signs of insecurity, feeling like others are talking about and laughing at her, blushing, and reluctance to partner with other students. As she compares herself to others, she feels smaller, less talented, less beautiful, and less important. Her inner thoughts of comparison and insecurity distract her from doing her best. Her older brother, with a very outgoing personality, seems to know everyone and feel comfortable in any situation. He gives her bad advice to try to gain confidence by finding faults in others, but following his advice leaves her feeling even worse. Finally, she is given good advice from her step-father to stop comparing herself to others, but to focus on improving her skills and encouraging others. Her mom helps her practice confidence and relationship skills such as eye contact, good posture, and giving genuine compliments. With this advice, she is able to focus on doing her best while also building positive relationships. Her confidence grows and she finally feels like she belongs with this new group of friends.
This book showcases diversity in positive ways with characters that span various cultures, ethnicities, family situations, physical challenges and more. Readers of all backgrounds will see themselves in these pages while learning to value the diversity within their own community and being exposed to differences from around the world.
About the Help Me Understand series
The Help Me Understand series provides elementary children with tools to identify, understand, and responsibly manage difficult emotions. Each book follows the life of one of our sixteen diverse MVP Kids and contains a discussion guide with further insight and reflection questions related to the book's content. Themes include children overcoming and managing anger, anxiety, insecurity, boredom, arrogance, and more. Through difficult challenges, the MVP Kids learn to make the right choices in the midst of big feelings.
About MVP Kids
Families with a diverse range of cultural and ethnic backgrounds drive the inspiration for child education and social emotional learning. MVP Kids enables real-world kids to address the challenges in their lives through story-based character lessons where the kids interact at school, in social situations, and in their communities. MVP Kids board books enrich preschool readers while hardcovers and paperbacks focus on school-aged children. Each MVP Kids book includes extensive coaching information for parents and educators that promotes character education, wise decision-making skills, and social and emotional learning.