goItalian: Speak and Read the goPimsleur Way
Pimsleur
---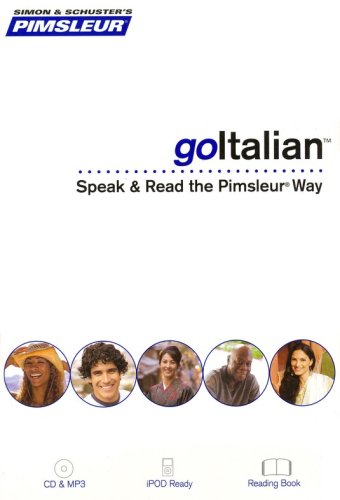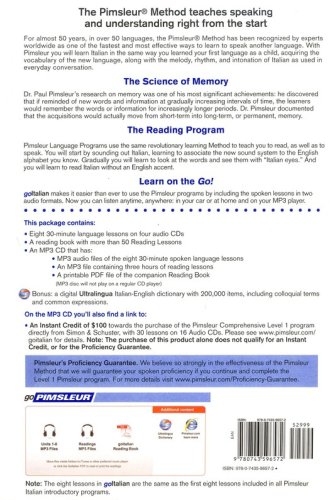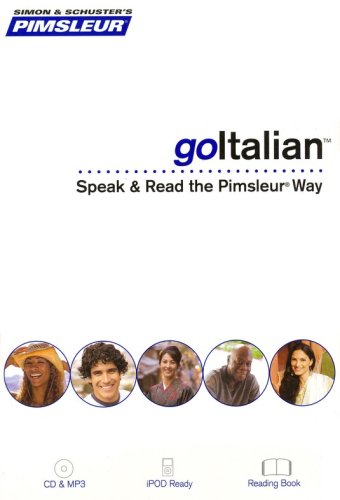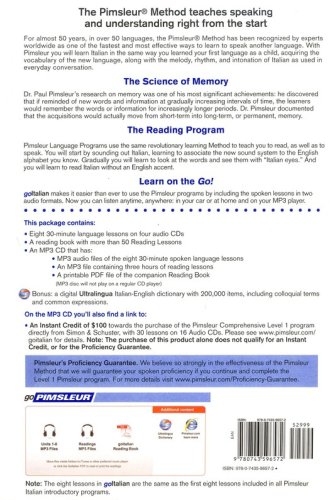 ISBN:

0743596579, 9780743596572

Page count:

0

Published:

2009

Format:

Compact disc

Publisher:

Simon & Schuster

Language:

Author:

Pimsleur
The Pimsleur® Method teaches speaking and understanding right from the start
For almost 50 years, in over 50 languages, the Pimsleur® Method has been recognized by experts worldwide as one of the fastest and most effective ways to learn to speak another language. With Pimsleur you will learn Italian in the same way you learned your first language as a child, acquiring the vocabulary of the new language, along with the melody, rhythm, and intonation of Italian as used in everyday conversation.
The Science of Memory
Dr. Paul Pimsleur's research on memory was one of his most significant achievements: he discovered that if reminded of new words and information at gradually increasing intervals of time, the learners would remember the words or information for increasingly longer periods. Dr. Pimsleur documented that the acquisitions would actually move from short-term into long-term, or permanent, memory.
The Reading Program
Pimsleur Language Programs use the same revolutionary learning Method to teach you to read, as well as to speak. You will start by sounding out Italian, learning to associate the new sound system to the English alphabet you know. Gradually you will learn to look at the words and see them with "Italian eyes." And you will learn to read Italian without an English accent.
Learn on the Go!
goItalian makes it easier than ever to use the Pimsleur programs by including the spoken lessons in two audio formats. Now you can listen anytime, anywhere: in your car or at home and on your MP3 player.
This package contains:
• Eight 30-minute language lessons on four audio CDs
• A reading book with more than 50 Reading Lessons
An iPod-ready MP3 CD that has:
• MP3 audio files of the eight 30-minute spoken language lessons
• An MP3 file containing three hours of reading lessons
• A printable PDF file of the companion Reading Book (Please Note: MP3 disc will not play on a regular CD player)
Bonus: a digital Ultralingua Italian-English dictionary with 200,000 items, including colloquial terms and common expressions.
On the MP3 CD you'll also find a link to:
An Instant Credit of $100 towards the purchase of the Pimsleur Comprehensive Level 1 program directly from Simon & Schuster, with 30 lessons on 16 Audio CDs. Please see www.pimsleur.com/goItalian for details.
Note: The purchase of this product alone does not qualify for an Instant Credit, or for the Proficiency Guarantee.
Pimsleur's Proficiency Guarantee.
We believe so strongly in the effectiveness of the Pimsleur Method that we will guarantee your spoken proficiency if you continue and complete the Level 1 Pimsleur program. For more details visit www.pimsleur.com/Proficiency-Guarantee