Church History in Plain Language, Fourth Edition – unabridged audiobook on MP3-CD
Bruce L. Shelley
---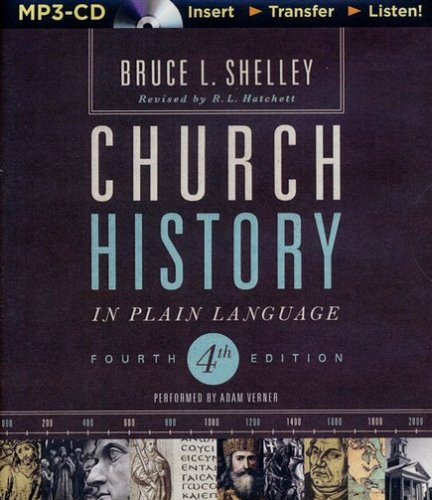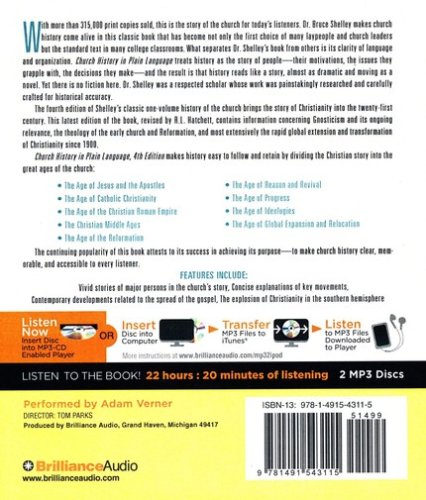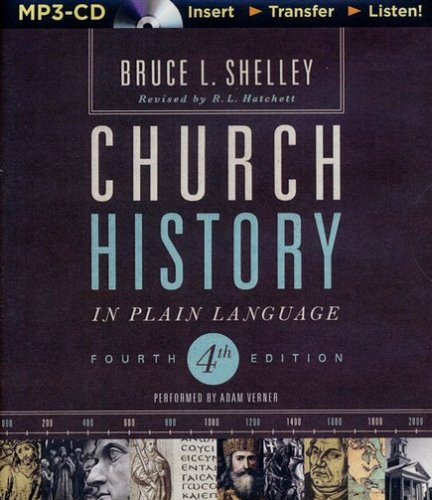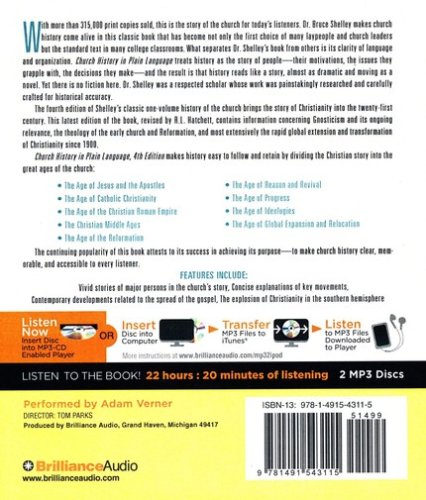 With more than 315,000 print copies sold, this is the story of the church for today's listeners. Dr. Bruce Shelley makes church history come alive in this classic book that has become not only the first choice of many laypeople and church leaders but the standard text in many college classrooms. What separates Dr. Shelley's book from others is its clarity of language and organization. Church History in Plain Language treats history as the story of people—their motivations, the issues they grapple with, the decisions they make—and the result is that history reads like a story, almost as dramatic and moving as a novel. Yet there is no fiction here. Dr. Shelley was a respected scholar whose work was painstakingly researched and carefully crafted for historical accuracy.
The fourth edition of Shelley's classic one-volume history of the church brings the story of Christianity into the twenty-first century. This latest edition of the book, revised by R.L. Hatchett, contains information concerning Gnosticism and its ongoing relevance, the theology of the early church and Reformation, and most extensively the rapid global extension and transformation of Christianity since 1900.
Church History in Plain Language, 4th Edition makes history easy to follow and retain by dividing the Christian story into the great ages of the church:
• The Age of Jesus and the Apostles
• The Age of Catholic Christianity
• The Age of the Christian Roman Empire
• The Christian Middle Ages
• The Age of the Reformation
• The Age of Reason and Revival
• The Age of Progress
• The Age of Ideologies
• The Age of Global Expansion and Relocation
The continuing popularity of this book attests to its success in achieving its purpose—to make church history clear, memorable, and accessible to every listener.
Features include:
Vivid stories of major persons in the church's story
Concise explanations of key movements
Contemporary developments related to the spread of the gospel
The explosion of Christianity in the southern hemisphere