Be the Boss of Your Stuff: The Kids' Guide to Decluttering and Creating Your Own Space – eBook
Allie Casazza
---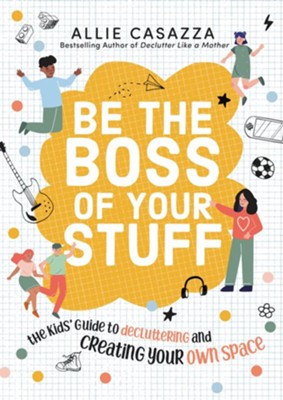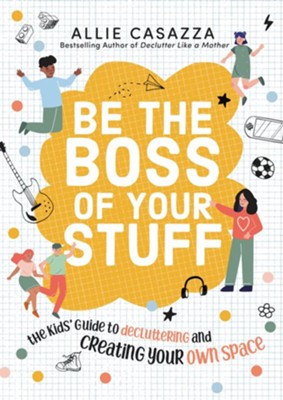 ISBN:

9781400225866, 9781400225866

Page count:

0

Published:

2022-03-08

Format:

DRM Protected ePub

Publisher:

Thomas Nelson

Language:

Author:

Allie Casazza
Give your kids the decluttering guide that will encourage their independence and create a more peaceful home for your family. Allie Casazza has created a resource for you to show kids how to create and design their own space, offering practical ideas on organization and productivity, kid-friendly inspiration for mindfulness, and interactive pages for creativity.
Allie has encouraged women to simplify and unburden their lives as the host of The Purpose Show podcast and through her first book Declutter Like a Mother. Now she's helping you equip your kids and tweens to discover the same joy of decluttering as they
design and create a space that supports their interests and goals,make more room in their lives for playtime and creativity,increase productivity and find renewed focus for schoolwork,learn valuable life skills, andcut down on cleaning time, reduce stress, and feel more peaceful.
Your kids will start to understand that the less they own, the more time they have for what's important. Written in Allie's fun, motivational voice, Be the Boss of Your Stuff
is ideal for boys and girls ages 8 to 12,includes photography and interactive activities with space to write, draw, imagine, and plan,shares step-by-step instructions for decluttering,offers added practical, personalized instruction from Allie's children, Bella and Leeland,and is a great gift for coming-of-age celebrations, the first day of spring, New Year's, Easter, birthdays, back-to-school, or school milestones.
As your kids become more proactive in taking care of their stuff, you'll find your whole family has more time and space for creativity and fun. After all, less clutter, less stress, and less chaos in your kids' lives means more peace, more independence, and more opportunity to grow into who they're meant to be.
Read Allie's first book, Declutter Like a Mother, to further equip yourself in decluttering while you empower your kids to embrace their space.