You Can Count on God : 100 Devotions for Kids
Max Lucado
---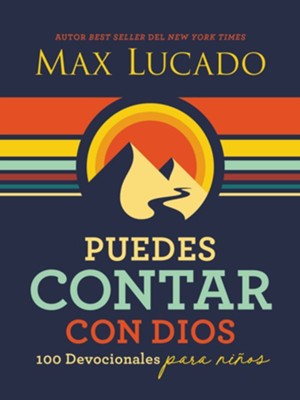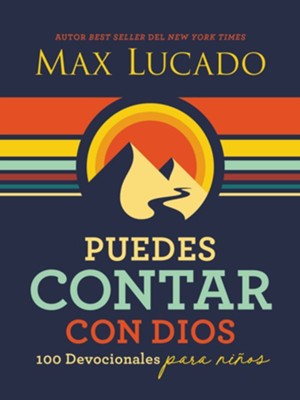 ISBN:

1400235898, 9781400235896

Page count:

208

Published:

2022-07-05

Format:

Hardcover

Publisher:

Thomas Nelson

Language:

Author:

Max Lucado
Del autor de best sellers del New York Times, Max Lucado, estos 100 devocionales ayudarán a los niños a preocuparse menos, probar cosas nuevas con valentía y acercarse a Dios a medida que aprenden a confiar en su fidelidad.
Puedes contar con Dios enseña a los niños que lo puedes hacer porque él nunca los dejará y los amará incondicionalmente. Cada una de las 100 entradas
incluye un reconfortante versículo bíblico y un breve devocional que muestra un ejemplo de la fidelidad de Diospresenta el mensaje de que Dios es digno de confianza de una manera que los niños, de 6 a 10 años, puedan entenderles asegura a los niños que Dios puede ayudarlos con sus desafíos, tristezas y preguntasofrece una sección para pensar con un punto clave, una pregunta de reflexión o una oración para guiar a los niños a comprender y aplicar la verdad bíblicaes perfecta para que las familias lean juntas o para que los lectores mayores disfruten solos
Dale a tu niño el regalo de saber que puede contar con Dios, pase lo que pase. Este devocional para niños es perfecto para
familias que quieren que sus hijos se sientan seguros en su feun regalo para conmemorar una decisión de fe, bautismo o confirmaciónuna canasta de regalo de Pascua
Con un marcador de cinta, una página de presentación, una atractiva tapa dura con textura e interiores de colores llamativos, este devocional que trae esperanza a los niños es el regalo perfecto para cualquier niño que necesite valentía para un nuevo desafío, paz para las ansiedades sobre el futuro o alivio de la decepción, inseguridad y agobio. Puedes contar con Dios guiará a los niños hacia una relación más profunda con Dios a medida que aprenden sobre su fidelidad en el pasado y les genera confianza en que siempre pueden confiar en quien los ayudará.
You Can Count on God
From New York Times bestselling author Max Lucado, these 100 devotions will help kids worry less, bravely try new things, and draw closer to God as they learn to trust His faithfulness.
Adapted from the encouraging devotional for adults, You Can Count on God for Kids teaches children that they can count on God because He will never leave them, and will love them unconditionally. Each of the 100 entries
includes a comforting Bible verse and a short devotion that show an example of God's faithfulnesspresents the message that God is trustworthy in a way that children, ages 6 to 10, can understandreassures kids that God can help them with their challenges, sorrows, and questionsoffers a takeaway section with a key point, reflection question, or prayer to guide kids in understanding and applying the biblical truth
This devotional is perfect for
families who want their children to feel secure in their faitha present to commemorate a decision of faith, baptism, or confirmationan Easter basket gift
With a ribbon bookmark, presentation page, attractive textured hardcover, and bold color interiors, this hope-giving devotional is the perfect gift for any child needing courage for a new challenge, peace from anxieties about the future, or relief from disappointment, insecurity, and feeling overwhelmed.