The Christmas Story: PowerPoint CD-ROM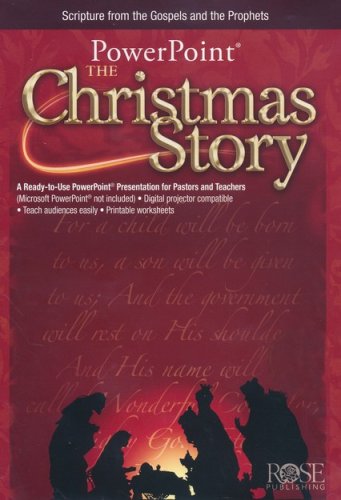 ---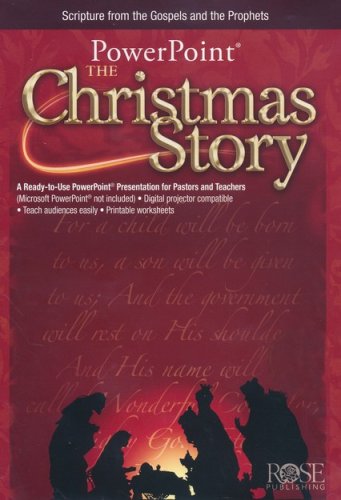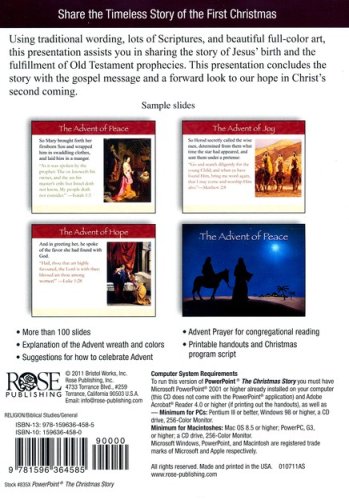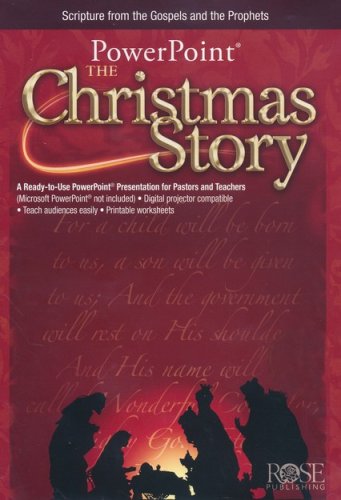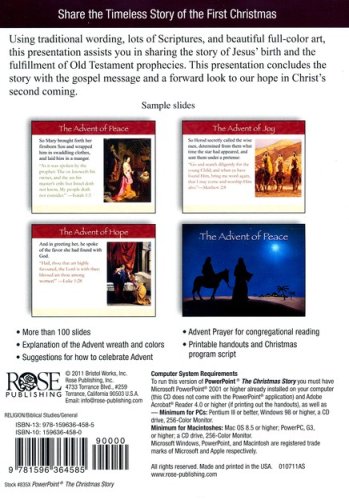 ISBN:

1596364580, 9781596364585

Page count:

0

Published:

2011

Format:

Compact disc

Publisher:

Rose Publishing

Language:
Do you ever feel overwhelmed during the Christmas season, with presents to buy, parties to plan, and family to visit? Imagine saving hours of preparation-time this Christmas with Rose Publishing's The Christmas Story PowerPoint.
With over 100 PowerPoint slides, featuring mainly scripture references and classic art, this presentation assists you in- sharing the story of Jesus' birth explaining the fulfillment of Old Testament prophecies presenting the gospel message celebrating advent You won't have to worry about adding scripture or replacing blurry art in this presentation, for The Christmas Story PowerPoint features over 60 scripture references from the King James Bible and over 75 full-color, high quality pictures from old masters of art.
Plus, this product's automatic-play feature makes it perfect to show during silent worship and reflection times.
Add this poetically composed and beautifully assembled presentation to your Christmas service, Advent program, and/or study, today.
What is The Christmas Story PowerPoint?
The Christmas Story PowerPoint is a visual teaching aid that assists teachers and/or pastors explain the story of Jesus' birth and the fulfillment of Old Testament prophecies through PowerPoint slides (no audio). In other words, The Christmas Story PowerPoint acts as a helpful supplemental resource; it does not take the place of leader's actual instruction.
Special Features: Classic, full-color artTraditional wording from King James Bible Old Testament prophecies and their fulfillments Advent chart, featuring suggestions for Advent celebrations (you can use it for 4 Advent meditations and/or teachings.) Full explanation of Advent's symbolism
(Including its origin, colors, wreath, and prayer) An optional Christmas program narration script in PDF form Printable handout for Christmas programs Automatic play. Can set this presentation to play automatically during silent worship and/or reflection time without worrying about a distracting audio track.More than 100 slides Covers? The Advent of Hope The Advent of Peace The Advent of Joy The Advent of Love Old Testament Prophesies about Jesus and their fulfillment The angelic announcement of John the Baptist's birth Gabriel's visit to Mary Mary and Joseph's Bethlehem journey Jesus' birth Shepherds and Wise Men's visitation The Gospel message 4 Ways to Use This Product To explain the Christmas story To show scripture references and art during worship and/or reflection times To incorporate instructional visuals/slides during Advent celebrations
(at church or with family) To read as a script for an Advent/Christmas program Reasons to Use Visual Aids When programs use visuals (such as PowerPoint), audience members are More likely to pay attention. More likely to understand. More likely to remember. More likely to feel included. As you well know, Christmas represents a unique time to witness to unbelievers and to refresh Christians' faith. By using The Christmas Story/ PowerPoint to explain Jesus' birth, you can portray the Christmas message in an educationally effective way.
This Christmas reflect on, remember, and refresh your understanding of the greatest gift of all—Jesus—with The Christmas Story.
Rose Publishing Product Code: 835X