Indonesian, Conversational: Learn to Speak and Understand Indonesian with Pimsleur Language Programs Audiobook on CD
Pimsleur
---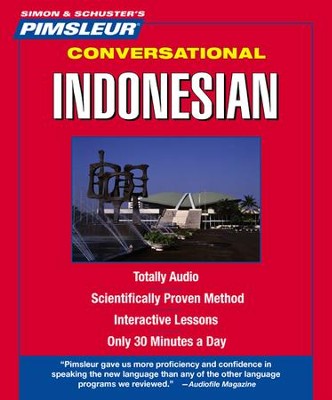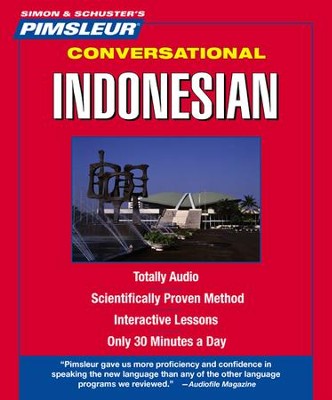 ISBN:

0743598849, 9780743598842

Page count:

0

Published:

2010-12-14

Format:

Compact disc

Publisher:

Simon & Schuster

Language:

Author:

Pimsleur
Pimsleur® equals success. Just one 30-minute lesson a day gets you speaking and understanding like no other program.
This course includes Lessons 1-16 from the Indonesian Level 1 Program – 8 hours of audio-only effective language learning with real-life spoken practice sessions. Each lesson provides 30 minutes of spoken language practice, with an introductory conversation, and new vocabulary and structures. Detailed instructions enable you to understand and participate in the conversation. Practice for vocabulary introduced in previous lessons is included in each lesson. Topics include: greetings, numbers, meals, shopping, telling time, scheduling activities, and asking and giving directions. The emphasis is on pronunciation and comprehension, and on learning to speak Indonesian.
Reading instruction begins in Lesson 11 to provide you with an introduction to reading Indonesian. These lessons, which total about one hour, are designed to teach you to sound out words with Indonesian pronunciation and accent. A Reading Booklet must be download.
The Indonesian Language
Indonesian, also known as Bahasa Indonesia, is the official language of Indonesia. Indonesia is a form of Malay, an Austronesian (or Malayo-Polynesian) language, which had been used as a lingua franca in the Indonesian archipelago for centuries. Standard Indonesian pronunciation, which is taught in this course, is based on the language of Jakarta. Indonesian is spoken by nearly 35 million people as a first language and by 150 million people as a second language. It is also spoken in Thailand, East Timor, Sri Lanka, Africa, Philippines, Saudi Arabia, Singapore, Netherlands, and the US. Besides Indonesian, there are over 300 local languages spoken in Indonesia, however, Indonesian is the primary language in education, government, business and communication. Like English, written Indonesian uses the Latin alphabet.
Tech Talk
– CDs are formatted for playing in all CD players, including car players, and users can copy files for use in iTunes or Windows Media Player.