Guitar Rhythm & Technique For Dummies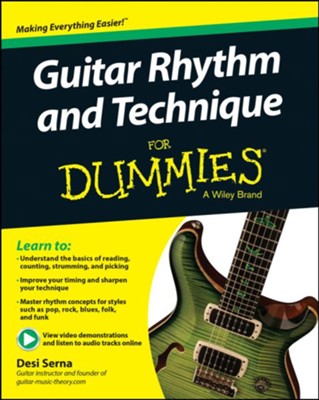 ---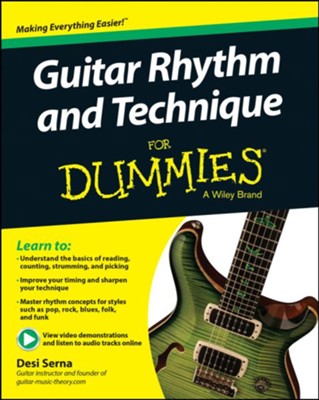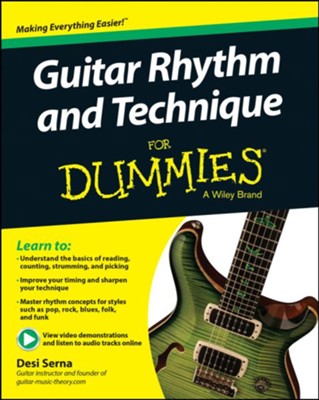 ISBN:

1119022878, 9781119022879

Page count:

312

Published:

2015-04-27

Format:

Paperback

Publisher:

For Dummies

Language:
Improve your guitar-playing rhythm, feel, and timing
If you want to improve your timing, sharpen your technique, or get inspired by new ideas, Guitar Rhythm & Technique For Dummies breaks down the basics of reading, counting, strumming, and picking rhythms on guitar to make you an ace on the axe in no time. With the help of this friendly guide, you'll learn to play examples of eighth and sixteenth note rhythms—including common strum patterns heard in popular music—to improve your guitar rhythm, feel, and timing. Plus, access to audio downloads and online video lessons complement the coverage presented in the book, giving you the option of supplementing your reading with additional visual and audio learning.
There's no denying that guitar is one of the coolest musical instruments on the planet. Okay, perhaps undeniably the coolest. Whether you bow at the feet of Chuck Berry, Keith Richards, the Edge, or Eddie Van Halen, they all have one thing in common: they make it look incredibly, naturally easy! However, anyone who's actually picked up a guitar knows that mastering rhythm and technique is something that takes a lot of practice—not to mention good coaching. Luckily, Guitar Rhythm & Technique For Dummies makes your aspirations to play guitar like the pros attainable with loads of helpful step-by-step instruction on everything from mastering hammer-ons, pull-offs, and slides to perfecting your picking—and beyond.
Covers strum patterns, articulations, picking techniques, and more Showcases musical styles such as pop, rock, blues, folk, and funk Includes techniques for playing with both your right and left hand Provides access to online audio tracks and video instruction so you can master the concepts and techniques presented in the book
Whether you're new to guitar or an advanced player looking to improve your musical timing and skills, Guitar Rhythm & Technique For Dummies quickly gets you in the groove before the rhythm gets you.