---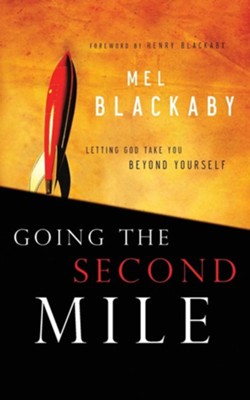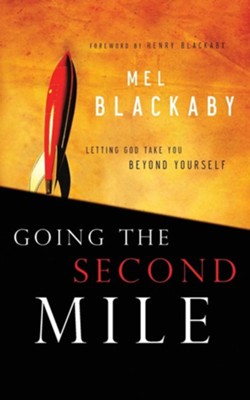 ISBN:

1601423306, 9781601423306

Page count:

174

Published:

2006-09-15

Format:

Paperback

Publisher:

Multnomah

Language:

Author:

Mel Blackaby
Less Effort, More Joy
What is the second mile? It's the difference between living as a good person and enjoying life as a child of God. When you "do your best" for someone, you go the first mile. When God does His best through you, you experience the second mile. This can happen only when you let Christ in you take over and empower you to accomplish what is impossible by your natural abilities. While others see you on the first mile, they see Christ on the second. This miraculous Christian life will overwhelm you with more time, energy, and peace. You can't help but freely give more away! Because God does not reward your duty, He blesses your relationship with His Son. It's time to experience radical living. It's time to enter into the second mile!
Cease to Strive…
" If someone forces you to go one mile," Jesus said,
"go with him two miles"
(Matthew 5: 41).
Are you obligated to serve…regardless of a mediocre attitude?
Are you supposed to be exhausted?
…So God Can Thrive
Author Mel Blackaby carefully unfolds the true meaning of Christ's words so you will see that it's not about you. While the world sees your good works on the first mile, they see Christ's power working through you on the second. He carries the burden and takes you beyond yourself.
First mile living is cramped and unsatisfying. When you stride beyond it, chains fall off and freedom ensues. True rest, fulfillment, joy, and other surprising treasures become yours—when you dare to embark upon the second mile.
Story Behind the Book
"As a pastor in North America , I am amazed by how many Christians struggle with depression, anxiety, and stress. The burdens of life overwhelm them, and they pull back from serving the Lord, thinking they can't take any more pressure. While visiting Mozambique , I went to the home of a native pastor who also works a secular job to support his life, his church, and another mission church. I was shocked at how little he had. He was giving his all to the Lord and existing on the bare minimum. As I consider his challenges, I am struck by his contagious smile. He has taken the yoke of Jesus and learned from Him; he has found rest for his soul and lives abundantly; he is walking in the second mile. I want God's children everywhere to know the same joy and privilege that comes from serving God." — Mel Blackaby