---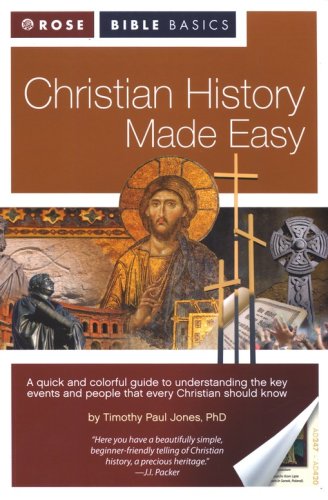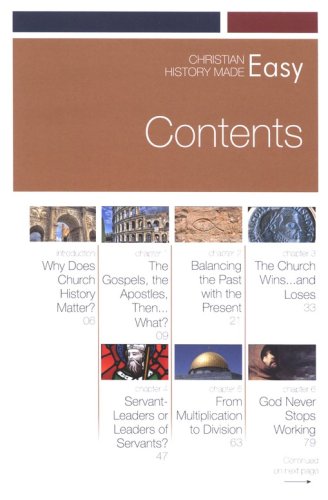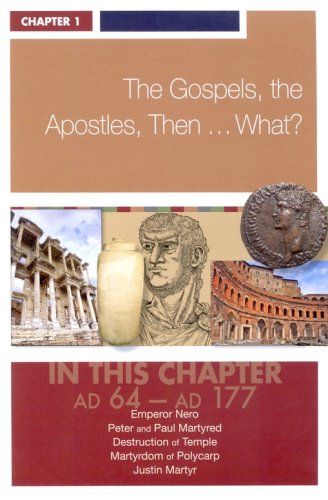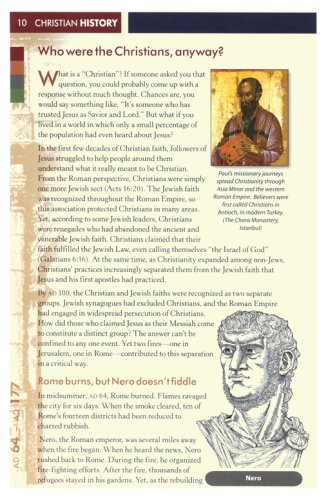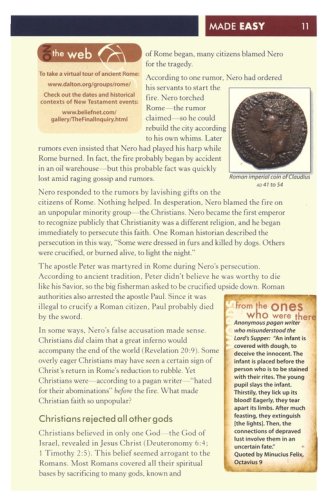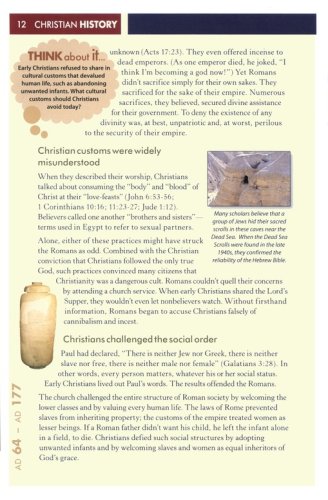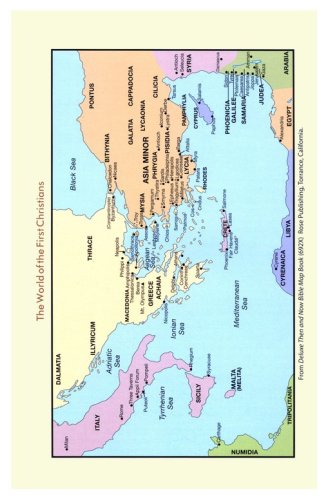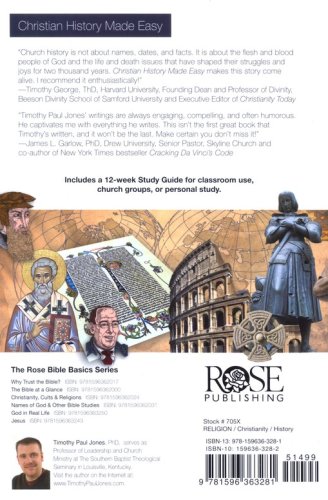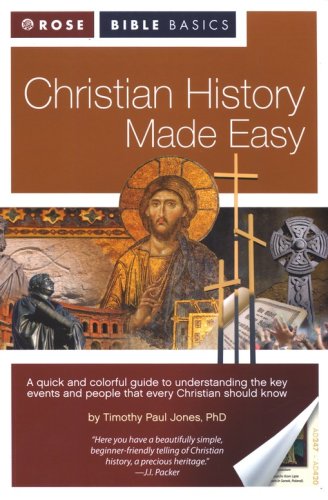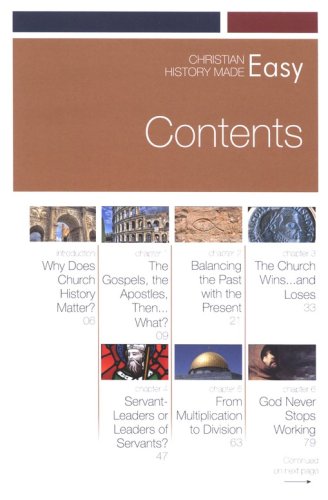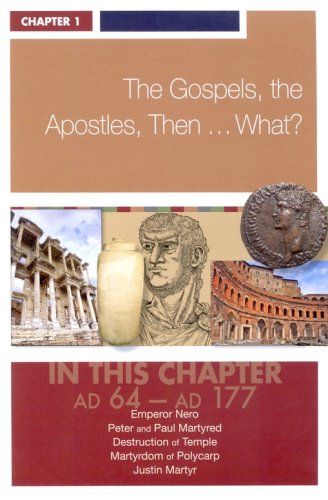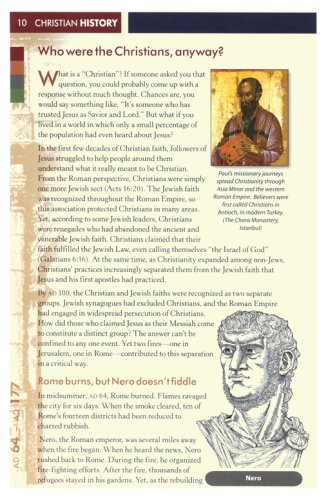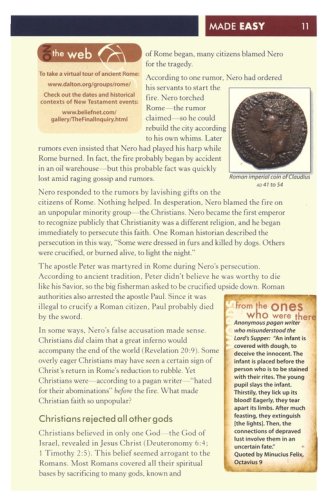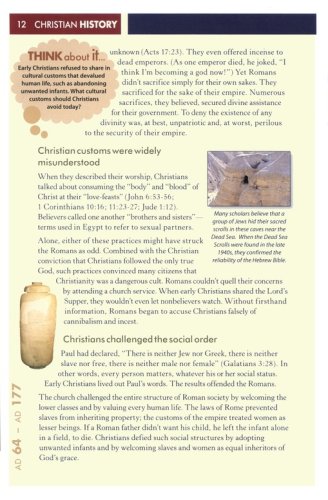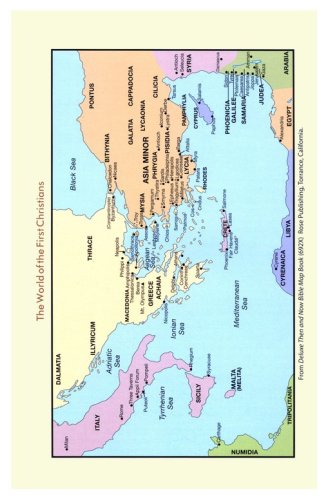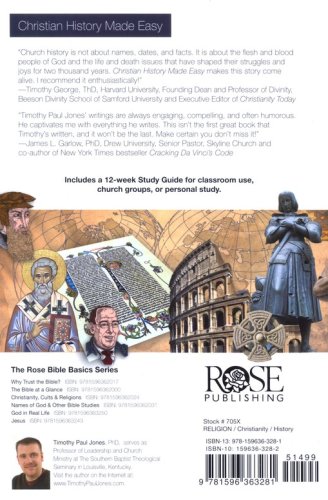 Christian History Made Easy summarizes the most important events in the history of the church, from the time of Jesus to modern day. Christian History Made Easy explains early church history, the Church Councils, the Great Schism, the Crusades, Francis of Assisi, John Wycliffe, Martin Luther, the Protestant Reformation, and more. Christian History Made Easy presents key church history events and great Christian leaders everyone should know, along with full-color church history timelines, photos, pictures, and maps. The study guide and worksheets in the back makes this book an excellent Bible Study, adults Sunday school topics, or homeschool curriculum. Author Timothy Paul Jones makes Christian history refreshingly fun while at the same time informing Christians about the history of the Christian faith.Full-color, 224 pages, paperback, 6 x 9 inches.
Theologian J. I. Packer says Christian History Made Easy is, "…a beautifully simple, beginner-friendly telling of Christian history, a precious heritage."
Christian History Made Easy Covers Major Events in Church History Early Church History The Early Church—Peter and Paul, the Age of the Apostles, The Destruction of the Temple and Jerusalem scatters Christians Early Church Fathers Persecution of Christians—Emperor Nero and Domitian, Martyrdom of Peter, Paul, Ignaitius, Polycarp, Justin Martyr Christianity legalized in the Roman Empire, Emperor Constantine, Christianity the official religion in the Roman Empire The Byzantine Era The Council of Nicaea, The Nicene Creed Augustine, Jerome translates the Bible into Latin, St. Patrick Fall of the Roman Empire, rise of the Eastern Orthodox Church Gregory the Great, Rise of Monasticism Rise of Islam and the Islamic Conquest in Europe, Charles Martel, Charlemagne East/West Church Schism (Photian Schism), Leif Ericson converts to Christianity Great Schism, Hildebrand reforms the church, the Crusades, Lateran Councils, Richard the Lionheart Pre-Reformation Church History Middle Ages, Bubonic Plague, John Wycliffe, the Wycliffe Bible The Renaissance, Jan Hus, Joan of Arc, Ottomans capture the Christian city of Constantinople, Johann Gutenberg's printing press The Protestant Reformation Erasmus, Martin Luther, 95 Theses, Ulrich Zwingli, William Tyndale, King Henry VIII, The Geneva Bible, The Matthew's Bible, Church of England history, John Knox, Queen Mary Tudor, Queen Elizabeth I, King James Version Bible Galileo, Pilgrim's Progress, Quaker founded, first Protestant missionary societies The Great Awakening and Church History in America and Europe John and Charles Wesley, George Whitefield, Handel writes the Messiah, Sunday school is developed, John Newton writes "Amazing Grace." Divisions over slavery in Baptist history Abolition, William Wilberforce, Charles Finney leads revivals, George Muller's faith orphanage, YMCA an YWCA founded, Charles Spurgeon, Salvation Army founded Church History in the 20th and 21st Century Amy Carmichael, Irish missionary to India, Azusa Street, Scofield Bible, Dietrich Bonhoeffer, Billy Graham, Discovery of the Dead Sea Scrolls, Modern political State of Israel C.S. Lewis, major evangelistic crusades in Latin America and Korea, Roman Catholic church apologizes for lack of leadership during the Holocaust Each Chapter of Christian History Made Easy Includes Key events Key concepts Names you should know Terms you should know Bible maps and time-lines Things to think about Clarification of words At the end of each chapter is a student guide, student worksheet, learning activity and quiz Endorsement for Christian History Made Easy "Rose's product line includes a wonderful collection of high quality, visually attractive materials that lend themselves to learning the basics of the Christian Faith. In most areas where alternative views exist, they are faithfully presented leaving the reader to decide which best fits their understanding of scripture….I have used Christian History Made Easy for my Sunday school class and found it to be very well done. This book has a great collection of auxiliary Study Guide questions. The author, Timothy Paul Jones is obviously a practiced teacher. I used an early edition. The recent upgrade of this package looks even better…" —Dr. Gene A. Stringer, Elder, Christian Church of Ashland, Oregon Endorsements and biography for Author Timothy Paul Jones "Dr. Timothy Paul Jones is a brilliant young biblical scholar who helps simplify the complex. His [resources] are great and sorely needed during our time when many are biblically illiterate and know even less about Church history."
—Dr. Jerry Newcombe, author, TV host, and spokesperson for Truth that Transforms with Dr. D. James Kennedy (formerly The Coral Ridge Hour)
About the Author: Dr. Timothy Paul Jones
Timothy Paul Jones serves as a professor of Christian ministry and as associate vice president at the Southern Baptist Theological seminary, where he teaches courses in applied apologetics and family ministry. 
Before teaching at Southern Baptist Theological Seminary, he led churches in Missouri and Oklahoma as pastor and associate pastor. Dr. Jones has authored or contributed to more than a dozen books, including PROOF; Conspiracies and the Cross; and, Christian History Made Easy. In 2007, Charles Colson listed him as one of "four names you need to know" when responding to the new atheists and in 2010, Christian Retailing magazine selected Christian History Made Easy as the book of the year in the field of Christian education.
He is married to Rayann and they have three daughters. The Jones family works in SojournKids and community group ministry at Sojourn Community Church.
A Message from Timothy Paul Jones, author of Christian History Made Easy
My name is Timothy Paul Jones, and I love living in the city of Louisville with my wife and daughters. Over the past two decades, I've had the privilege of leading several congregations as a pastor and in associate ministry roles. Now, I serve as associate professor of leadership and as associate vice president at one of the largest seminaries in the world, The Southern Baptist Theological Seminary. Here, I invest my time in mentoring a rising generation of God-called ministers of the gospel. I also edit The Journal of Discipleship and Family Ministry and write books in the fields of history, apologetics, and family ministry.
I enjoy spending time with my family, meandering along city streets, visiting baseball parks, drinking French-pressed coffee, eating locally-produced foods, and cooking for friends. My family is involved in children's ministry at the east campus of Sojourn Community Church.
Christian History Made Easy WINNER of the Christian Retailers' Choice Awards 2010 for the "most significant new life-changing products in the Christian retail industry" in the Christian Education category
See this press release from Southern Baptist Seminary: http://news.sbts.edu/2010/04/27/jones-book-receives-christian-retailers-award/
Note to professors: For exam or desk copy policy click HERE.
Notification About Prior Edition
This book is the deluxe full-color edition of the original black-and-white edition. The first edition was ISBN 1890947105 or ISBN 13: 9781890947101 (Product code 416X)
Look Inside: Sample Pages of RBB: Christian HIstory Made Easy