Aging Well: Living Long, Finishing Strong [Hope For The Heart Series]
June Hunt
---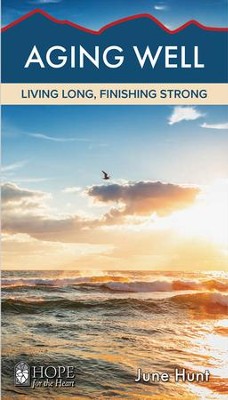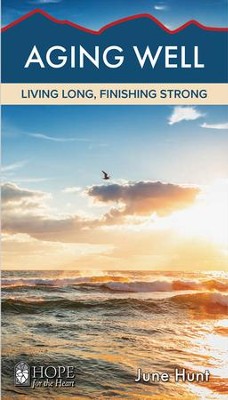 ISBN:

1628621419, 9781628621419

Page count:

96

Published:

2017-09-29

Format:

Paperback

Publisher:

Aspire Press

Language:

Author:

June Hunt
Enjoy having a quick-guide to aging well, packed with solid biblical advice, practical ways to overcome common roadblocks that seniors face, steps to undo mindsets that get in the way of embracing the joys of old age, and much more. This easy-to-read guide is filled with simple explanations, common questions and solutions, relatable stories, outlines, and helpful memory verses. Aging Well also covers common topics such as loneliness, discontent, physical health, and more.
A Christian Guide to Aging Well and Growing Old for Men and Women
Whether it's your hearing, memory, or hope, there are some things about aging and growing old that we can't control. We can, however, choose how we approach aging: June Hunt wants to share with you the practical steps and biblical principles to aging in a godly, mature, and graceful manner.
Introducing Aging Well, the new title in the Hope for the Heart minibook series with over one million copies sold. Aging Well shows how you can be a vibrant senior with grace and joy, no matter what your physical circumstances. This quick guide to aging well covers the issues that seniors face, defines the roadblocks and their causes, and shows steps to solution with biblical hope and practical advice. Discover:
Definitions of aging, causes of and solutions to discontentment
5 steps to creating own personalized plan for aging well
9 ways the Bible calls us to walk in wisdom in old age
What God and the Bible say about the purpose of aging and the astounding hope he offers!
And much more!
Perfect for seniors, those with aging parents, chaplains, pastors, and church leaders who want to love and support the elderly in their community, and more. Paperback, 96 pages, 4"x7", also available in PDF format.
4 Key Features of June Hunt's Aging Well Quick-Guide Resource
1. Easy-to-Read. Back in the popular Hope for the Heart quick-guide format, Aging Well provides solid information laid out in simple overviews, bullet points, and charts that serve up everything you need to know at a glance! Quickly see:
Key terms and definitions (gerontology, life expectancy, maturity, etc.)
Outlines and characteristics (stages of adulthood, traits of aging, God's purpose in aging)
Illustrated progression of adult aging and its characteristics
And much more!
2. Bible-Based. Discover more information and practical solutions straight from the Bible. Get helpful references and verses alongside the step-by-step tips to aging well from June Hunt's decades of experience in counseling! From "5 Daily Don'ts for Aging" to 7 Bible truths to live by in your later years, enjoy seeing the practical advice and biblical support side-by-side!
3. Practical. Aging Well features key Scripture verses as well as compassionate and non-preachy counseling insights to help practically apply its message to your life. From Scriptures to memorize to 9 ways to overcome loneliness, enjoy having dozens of actionable steps that you can start today! Includes:
Summarizes Causes, Definitions, Characteristics, and Solutions
Provides Clear Outlines, Key Points, and Scripture References
Includes Statistics, Relatable Stories, and Biblical Explanations
4. Relevant. Unlike other books on aging well, this Hope for the Heart quick guide is laid out in an easy-to-follow format with key principles straight from the Word of God. Relevant Scriptures are outlined and formatted to clearly give you a step-by-step roadmap to help you understand and embrace the golden years in godly ways!
About the Hope for the Heart Series
Look for all 44 titles in the Hope for the Heart Biblical Counseling Library. These minibooks are for people who seek freedom from codependency, anger, conflict, verbal and emotional abuse, depression, or other problems. Unlike other books and references on these topics, these 96 page "quick-guide" books use larger print, charts, bulleted lists, and an easy-to-scan format, helping you find the information you need fast!
About the Author of Aging Well, June Hunt
June Hunt is a biblical counselor whose award-winning radio program Hope for the Heart is heard on nearly 900 radio outlets around the world. For more than 30 years, she has counseled people, offering them hope for today's problems. June has helped many people with emotional, relational, and spiritual problems experience God's love through biblical hope and practical advice.