To Hell with the Hustle: Reclaiming Your Life in an Overworked, Overspent, and Overconnected World, Unabridged Audiobook on MP3-CD
Jefferson Bethke
---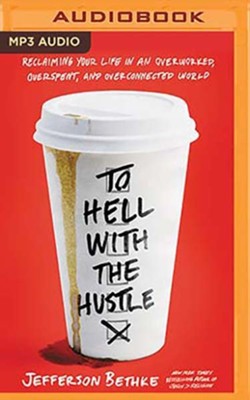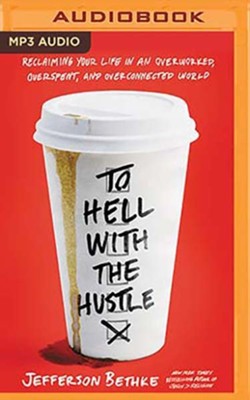 New York Times bestselling author Jefferson Bethke delivers a call to resist our cultural worship of connectivity and achievement before we lose the essentials that make us distinctly and deeply human. 
Our culture makes constant demands of us. Do more. Accomplish more. Buy more. Post more. Tweet more. And in following those demands, we have indeed become more–more anxious, more tired, more hurt, more depressed, more frantic. What we are doing isn't working because, Jefferson Bethke argues, we have forgotten the fundamentals that make us human, the things that anchor our lives, providing us with roots and meaning.
In this highly anticipated new book, Jefferson Bethke delivers a wake-up call to resist our culture and embrace the slowness of Jesus. To stop doing and start becoming by proactively setting up boundaries in our lives and cultivating disciplines within them. He shows his readers how to find landmarks, anchors, and rhythms that provide depth and meaning and that push back against the demands of contemporary life. And he reveals that what the world teaches us to avoid at all costs–things such as silence, obscurity, solitude, and vulnerability–are the very things that can give us the meaning, depth, order, and the richness we are truly looking for.