NLT Personal Size Giant Print Bible, Filament Enabled Edition (LeatherLike, Evergreen Mountain ), LeatherLike, Evergreen Mountain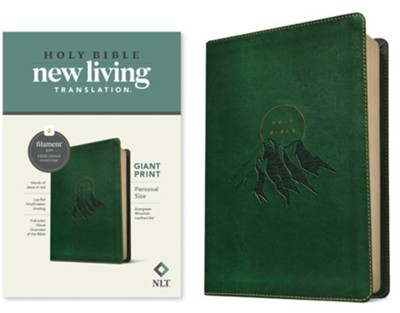 ---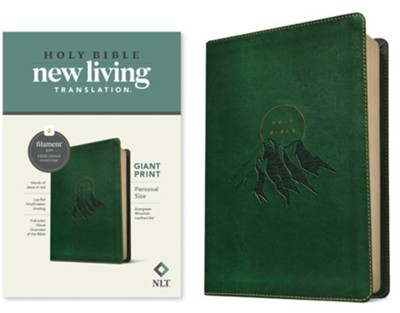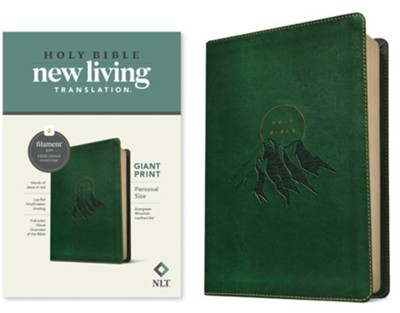 ISBN:

1496467949, 9781496467942

Page count:

1920

Published:

2022-10-04

Format:

Bonded Leather

Publisher:

Tyndale House

Language:
Bible Reading: Illuminated
The new Tyndale NLT Personal Size Giant Print Bible, Filament-Enabled Edition has readable text and an attractive layout in an easy-to-carry size. And while it has the same low price as basic text-only Bibles, the NLT Personal Size Giant Print Bible offers much more. It not only features a bold new design and the trusted and much-loved New Living Translation (NLT) but also includes the groundbreaking Filament Bible app.
Features:
New, easy-to-read page designsFilament content linked to every page!Readable large printHandy, thin sizeWords of Jesus in redQuality lay-flat Smyth-sewn bindingTyndale Verse FinderA Visual Overview of the BiblePresentation pageRibbon marker
Enhance Your Bible Studying with the Free Filament App
All editions of the collection are equipped with the patented Filament Bible app, enabling readers to access specially curated content that illuminates the very page of the Bible they are reading.
This app enables you to use your mobile phone or tablet to connect every page to a vast array of curated content, including:
25,000 study notes350+ videos40+ maps and infographics400+ profiles and articles150+ devotionalsLibrary of worship music
The Filament Bible app turns this Bible into a powerful study and devotional experience, offering more to expand your mind and touch your heart than you can possibly hold in your hand.
And there is no additional cost for the Filament Bible app. No additional purchase. No additional size or weight. Of course, you can use this Bible without the app, but when you want to dig deeper, grab your phone or tablet and open the Filament Bible app. It's so easy to use.