---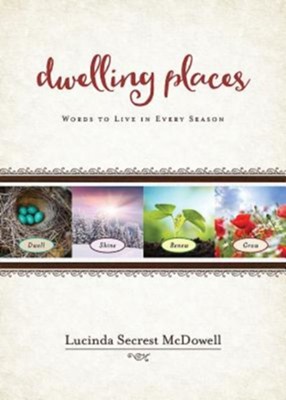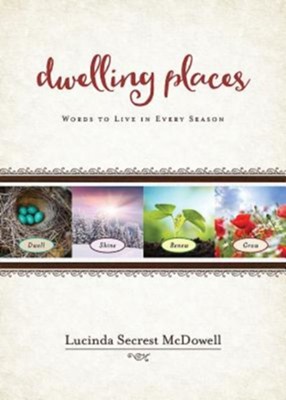 Do you long for serenity and refuge, peace and hope? Are you seeking a deeper spiritual life through a closer relationship with God?
If you're tired of dwelling in busyness and noise, then perhaps one word a day can change your life. Award-winning author Lucinda Secrest McDowell knows that if you spend time each day turning to God's Word for wisdom and guidance, your faith can flourish and grow.
Through short and inspiring readings, McDowell unpacks a single word – such as mercy, beauty, gratitude, or grace – to reveal a biblical blessing or challenge relevant to where you are. Full of stories and illustrations to empower you to live the word you have just read, each devotional ends with a benediction, written as if God were speaking directly to you.
These "dwelling places" that offer the joy of God's promise and presence cover four seasons: fall, Advent, Lent, and summer. Whether in the midst of busy holiday schedules, holy days, ordinary moments, or changing seasons, a deeper faith can be as simple as a single word.
 
PRAISE FOR DWELLING PLACES:
"As there are seasons of the year so there are seasons in our walk with Christ. In Dwelling Places, Lucinda McDowell takes us on a gentle sojourn through words that inspire, encourage, educate and magnify the Lord." ~ Debbie Macomber, #1 New York Times Bestselling Author
 
"If you're looking for encouragement based on God's Word, read Dwelling Places. Lucinda Secrest McDowell has taken 130 key words from the Bible and created powerful devotions that will comfort, exhort, and bless you daily in every season of the year.  Her powerful stories and poignant ending prayers will capture your heart and point you towards hope and truth. Buy one copy for yourself and ten more to give away!" ~ Carol Kent, speaker and author of Waiting Together and Unquenchable
 
"In Dwelling Places, Lucinda Secrest McDowell elevates devotions to a new level. As always, McDowell uses some of the best quotes you will read this year, but she adds to them her special brand of storytelling as well as teachings that will minister to your soul. A masterful devotional, managing to be both short and deep at the same time." ~ Tessa Afshar, Christy, award winning author of Land of Silence and Fields of Grace
 
"I never miss a new book from Lucinda Secrest McDowell. Her writing is so real and warm and down-to-earth, and at the same time thought-provoking, profound, and theologically grounded. A rare combination! Dwelling Places offers readers deep moments of reflection, inspiration, and encouragement that will stay with us throughout the day and throughout the seasons of our lives."  ~ Christin Ditchfield, syndicated radio host, speaker, and author of What Women Should Know About Facing Fear
 
"Dwelling Places is balm for the soul, resonate and full of life, bringing the Word to dwell with me as I pondered each of the daily words long after I'd finished reading them." ~ Christa Parrish, Christianity Today award and Christy award winning author of Still Life and Stones for Bread