AMNH Birds of North America Western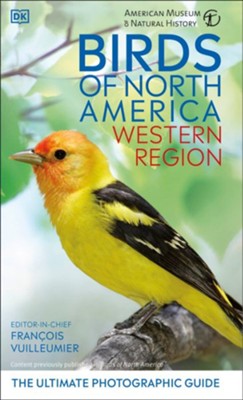 ---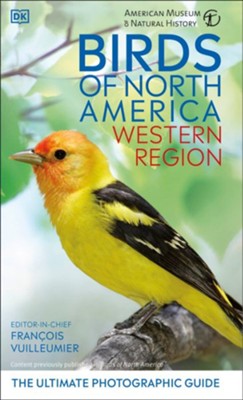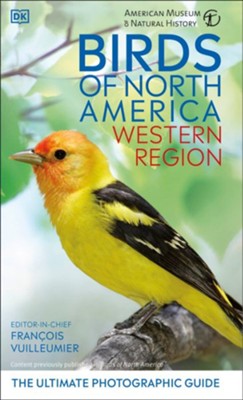 ISBN:

0744027373, 9780744027372

Page count:

480

Published:

2021-02-02

Format:

Paperback

Publisher:

DK

Language:
Easily identify bird species west of the Great Plains with this comprehensive photographic guide.
A book for avid bird watchers young and old! These pages feature high-quality photographs and full-pages details of well-known and rare species of Western North American birds, for quick and easy identification in the wild. 
This informative guide book profiles the extraordinary range of birds found in Western North America. The pages of the book are filled with stunning photographs and artworks of over 367 common bird species and 128 rare species seen west of the Great Plains. This field guide profiles each bird on its own page, highlighting its unique characteristics from the posture of the bird, its coloration to its flight patterns.
Inside this vivid field guide, you'll find:
   • Species profile features authenticated by the American Museum of Natural History
   • Crystal clear photos that make birds easy to identify  
   • Full-page profiles, access to bird sound recordings and migration maps
Written by expert ornithologists in collaboration with the American Museum of Natural History, you'll find the most accurate and interesting facts about birds. Explore each species key behaviors such as nesting, feeding, habitat, social groupings, lifespan, and conservation status. 
Grab Your Field Guide And Binoculars
This bird reference book also includes the key characteristics of the sounds that birds make and includes free access to audio recordings of over 150 bird sounds. You will also be able to understand the migratory patterns of the species in the book, with accurate maps that will help you locate different species throughout the year.
Complete the Series:
Once you've mastered Birds of North America – Western Region, learn about these spectacular species in the Eastern and Northern regions found in AMNH Birds of North America and AMNH Birds of North America – Eastern Region.