---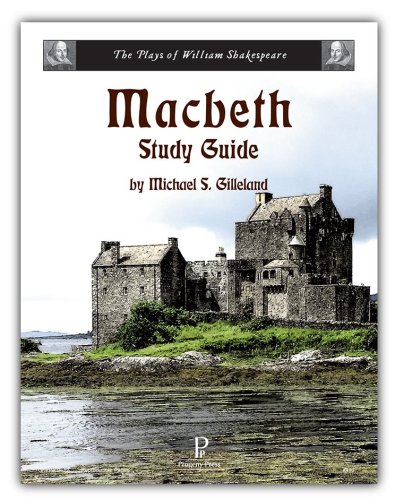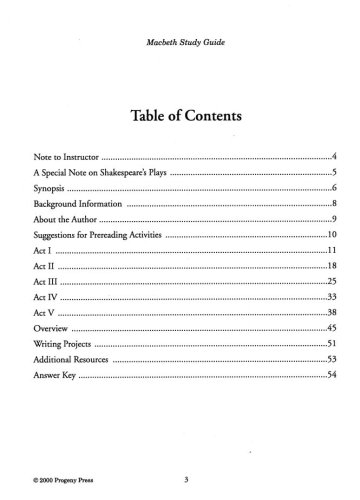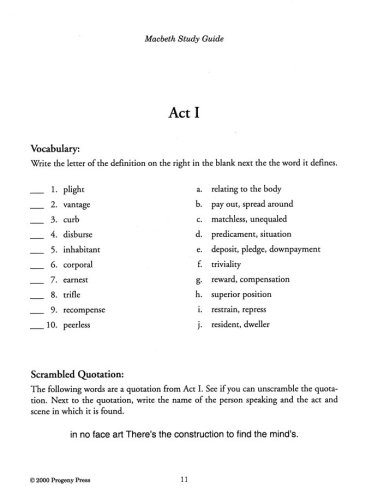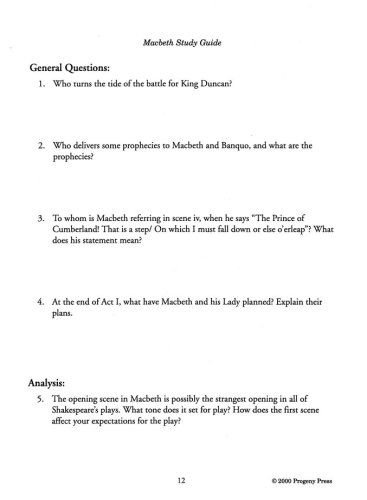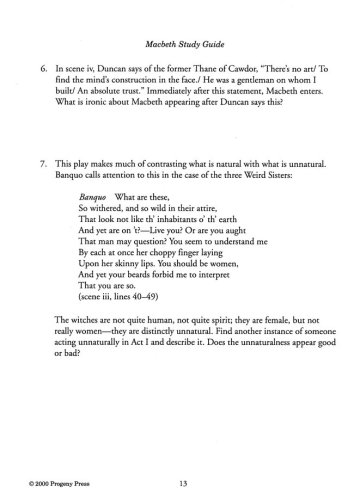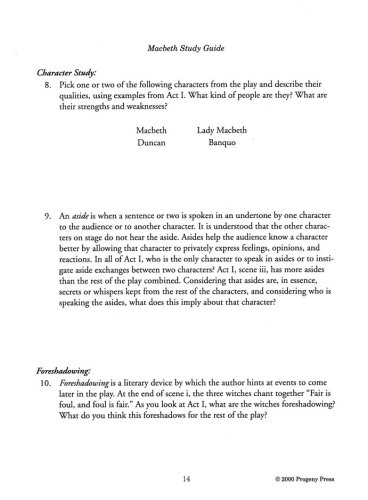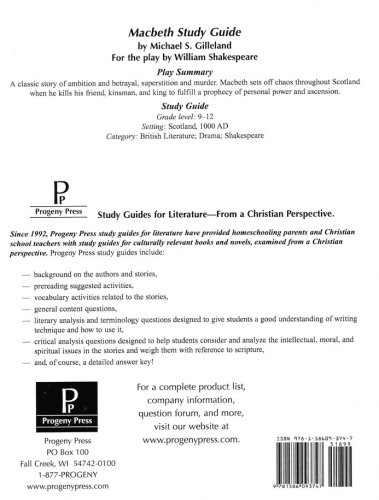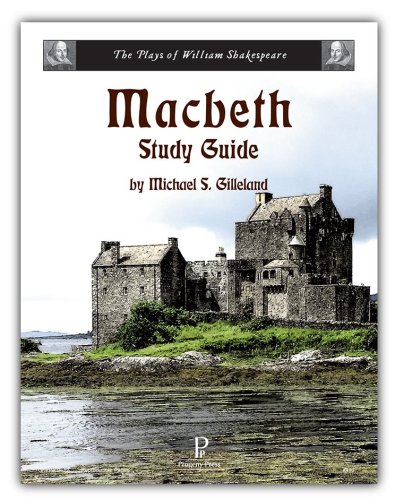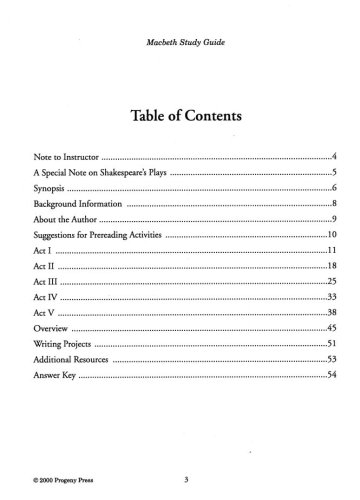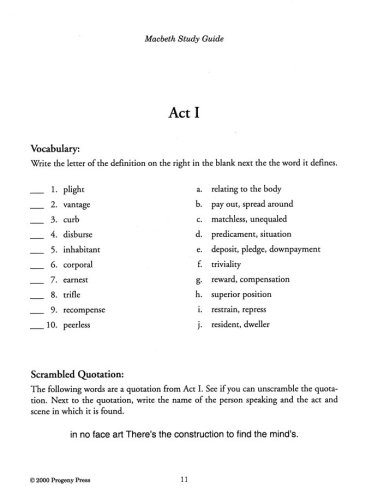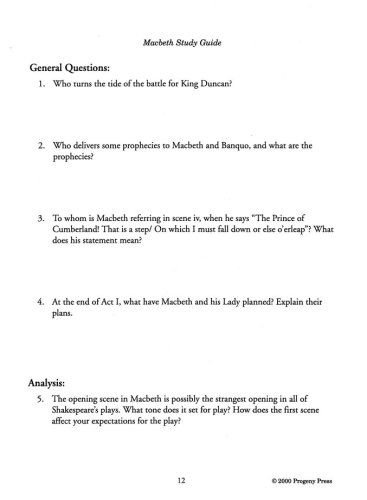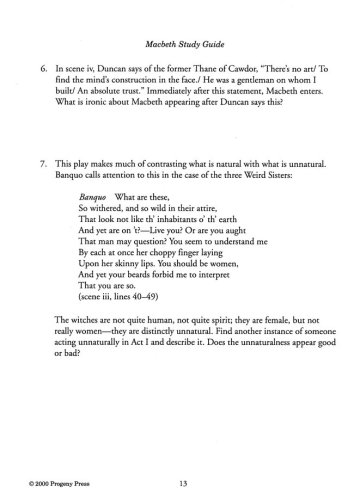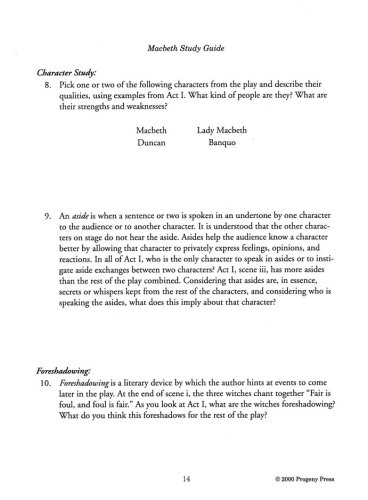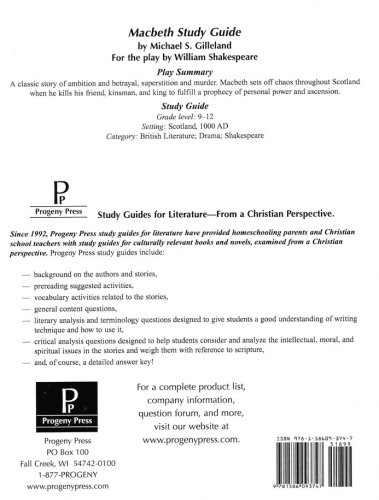 A classic tragedy, full of ambition and betrayal, superstition and murder. After meeting three witches who prophesy that he will one day become king, Macbeth sets off a chain of chaos throughout Scotland when impatience drives him to kill his friend, kinsman, and king. Now as king, Macbeth struggles to prevent the rest of the witches' predictions from coming to pass as his authority begins to crumble and his wife slowly descends into madness. The fires of rebellion ignite throughout the land, and even the seemingly favorable predictions the witches gave him come to have a double edge.
This Progeny Press study guide includes features about: the author. Vocabulary, critical thinking, and analysis. Literary Techniques such as tone, irony, contrast, character study, aside, foreshadowing, pacing, soliloquy, comic relief, foil, paraphrase, pathetic fallacy, personification, understatement, hyperbole, synonym, metaphor, compare/contrast, protagonist, tragic hero, and antihero. Concepts such as wise advisors, forgiveness, regret, revenge, love your enemies, judging, authority, pride, death, and redemption. Activities/Writing activities like King James I, map work, world history, power, Machiavelli, Scotland, castles, and more. A living reading list by the same author and other books like Macbeth
The format is ideal for homeschoolers; the large 8.5×11 printed workbook format is convenient to read, easy on the eyes, and easy to transport from car to home. Plus, every question has plenty of whitespace for student's answers, which encourages neat and clean handwriting practice. A removable answer key is also included for the teacher.
PLEASE NOTE: The novel Macbeth is required and must be purchased separately.
Setting: Scotland, 1000 AD
Genre: Shakespearean Tragedy, British Lit
Grades: 9-12